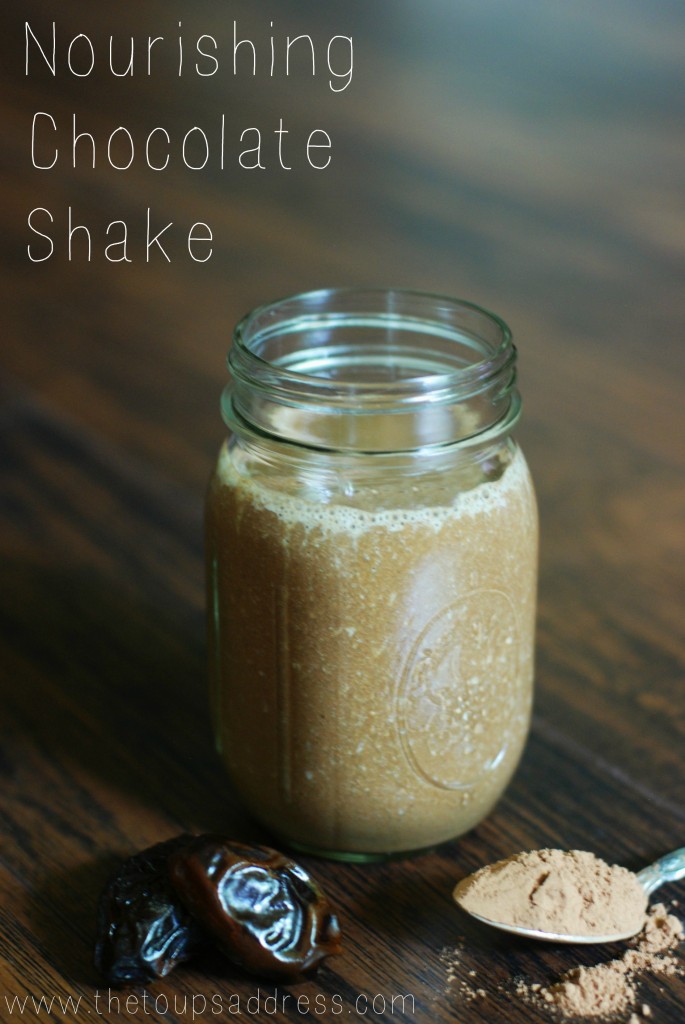 My family occasionally request sweets. We usually have lack of sweet goodness in our house because the bulk of my cooking time is spent preparing nutrient dense meals (and most of the time I'm out of time for a dessert!).
Now don't get me wrong… I love dessert, especially a chocolaty one. I mean who doesn't?
But with EVERYTHING and I mean almost all desserts contain HFCS (high-fructose corn syrup) and the recipes for homemade ones usually contain a load white sugar.
Solution – think nourishing chocolate shake! It can be tasty while at the same time nourishing and caring for our kids body.
Yep, you heard me right. A chocolate shake can be nourishing and healthy! Thick, rich and just the right amount of sweetness, with NO sugar. Nope…..just naturally occurring sweetness from bananas and dates.
Dates pack a punch of potassium, calcium, magnesium and other essential minerals as well as dietary fiber, amino acids and vitamins. They are naturally sweet and are a great substitute to add to shakes and smoothies.
The cacao brings delicious chocolaty goodness and tons of flavonoids and antioxidants. What? Destroying free radicals by having a chocolate shake!? Yes please!
Raw milk is what brings the rich creaminess. It delivers tons of nutrients and is FULL of beneficial bacteria ready to help populate our gut!
I also add collagen for hormone balancing and for hair, skin and nails support.
My whole family loves this recipe and I don't mind serving it ANYTIME of the day, because it is brimming with nourishing goodness. Especially because it contains greens, which I can sometime have a hard time getting my kids to eat. (shhh……don't let on that there is spinach in there)
We love this thick chocolate shake after a hearty meal, but I even make it for breakfast! That's right, who said you can't have dessert for breakfast! It's great for the days we when have to run out the door early in the morning, and I feel great knowing that it is nourishing my children's bodies and starting their day off right.
Nourishing Chocolate Shake
This recipe is quick and easy, and oh so delicious!
2 large frozen bananas
½ avocado
3 tbs raw cacao (get it here)
1 cup raw milk
3-4 pitted dates (get them here)
Handful of greens (such as spinach)
2 pastured egg yolks
2 tbs collagen hydrolysate (buy it here)
1 cup ice
Throw it all in the blender and enjoy!
Related posts: